Codegarden 2022
Last week, parts of the team were on site in Odense to attend Umbraco's annual event Codegarden. Like so much else, Codegarden has been held digitally for the past two years, but you can probably imagine how happy everyone was to be there in person again. It's a great event that lasts for several days mixed with knowledge and fun activities, but above all you get to meet all the wonderful people who are as passionate about Umbraco as we are.
Partner summit
The week in Odense started with the Umbraco Partner Summit. A novelty for this year is that it is not only Umbraco Gold Partners who are invited to the event, but now includes Umbraco's Tech Partners on day time. During the day, Umbraco shares news, trendspotting and more valuable information for us as Gold Partners.
The day together ended with a nice dinner where Denmark's former Prime Minister Lars Løkke Rasmussen gave a speech. After a wonderful day with all the partners, we went to Umbraco HQ to kick off the festivities with the rest of the participants at the festival.
Knowledge
Different sessions are held during the days with different tracks. Which means whether you are a developer, management or marketer, there is something to learn for everyone. We leave the festival with so much new information and concrete things we already want to take with us and implement in the company. There will soon be a bit more on this coming up in our various channels. It has been so much fun to listen to all the talented speakers from the community who so generously want to share their knowledge with the rest of us. It was also extra fun to listen to our colleague Poornima Nayar who talked about GraphQL querying with Umbraco Heartcore on the main stage.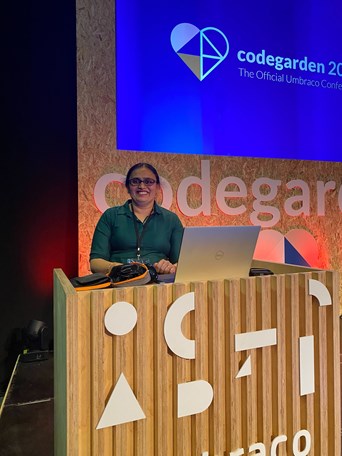 The community, the best thing about Codegarden
But the best thing about Codegarden is all the meetings. To meet both new people and famous friends within the community. Another highlight this year was to get the opportunity to meet people in person whom we've only had contact with virtually in the past couple of years. The community really is an important building block for Umbraco in so many ways and we are proud to be a part of it.
Thanks to the whole team at Umbraco for Codegarden 2022, we are already looking forward to next year!

#H5YR


Scroll to top